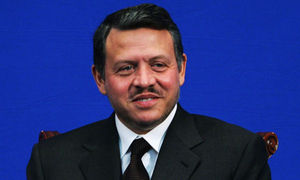 Attack by stone and bottle throwing youths hours after King Abdullah II announced political reforms is denied by government
The motorcade of King Abdullah II of Jordan has reportedly come under attack from protesters throwing bottles and stones during a visit to a town in the country's south.
Abdullah was unhurt in the attack, which came hours after he bowed to popular demands for political reform, agreeing to have an elected prime minister from a parliamentary majority replace the current method of appointing the cabinet.
An unnamed security official said young people attacked the motorcade in two different areas in Tafila, 125 miles south of the capital Amman.
A government spokesman, Taher Edwan, later rejected the account.