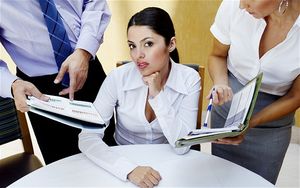 Meetings make people stupid because they impair their ability to think for themselves, scientists have found.
The performance of people in IQ tests after meetings is significantly lower than if they are left on their own, with women more likely to perform worse than men.
Researchers at the Virginia Tech Crilion Research institute in the US said people's performance dropped when they were judged against their peers.
Read Montague, who led the study, said: "You may joke about how committee meetings make you feel brain-dead, but our findings suggest that they may make you act brain-dead as well.
"We started with individuals who were matched for their IQ. Yet when we placed them in small groups, ranked their performance on cognitive tasks against their peers, and broadcast those rankings to them, we saw dramatic drops in the ability of some study subjects to solve problems. The social feedback had a significant effect."