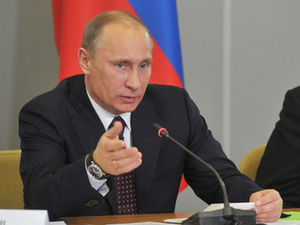 In the run-up to Russia's presidential elections, prime minister and presidential candidate Vladimir Putin has published his seventh article in which he defined Russia's niche in a "changing world."
In my articles I have already mentioned the key challenges that Russia is facing internationally today. Yet this subject deserves a more detailed discussion and not only because foreign policy is an integral part of any national strategy. External challenges and the changing world around us affect our economic, cultural, fiscal and investment policies.
Russia is a part of the big world, economically, culturally and in terms of information flow. We cannot be isolated, and we do not want to be isolated. We expect our openness will bring the people of Russia more prosperity and culture and will promote trust, an item that has been in short supply lately.
At the same time, everything we do will be based on our own interests and goals, not on decisions other countries impose on us. Russia is only treated with respect when it is strong and stands firm on its own two feet. Russia has practically always had the privilege of pursuing an independent foreign policy and this is how it will be in the future. Furthermore, I strongly believe that the only way to ensure global security is by doing it together with Russia, not by trying to "demote" it, weaken it geopolitically or undermine its defensive potential.
The goals of our foreign policy are strategic rather than short-term. They reflect Russia's unique role in international affairs, in history and in the development of civilization.