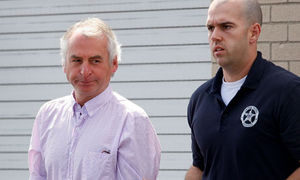 Paul Peters admits he detained 18-year-old Madeleine Pulver, locking her in a fake collar bomb at her home in Sydney last year
An Australian investment banker has pleaded guilty to chaining a fake bomb to a young woman's neck in a bizarre extortion attempt last year.
Paul Douglas Peters' lawyer Kathy Crittenden pleaded guilty on his behalf in a Sydney courtroom to a charge of aggravated break and enter and committing a serious indictable offence by knowingly detaining 18-year-old Madeleine Pulver.
Pulver was alone studying in her family's Sydney mansion 3 August when the 50-year-old Peters, wearing a ski mask and wielding a baseball bat,
tethered a bomb-like device around her neck
. It took bomb squad police 10 hours to remove it, but it contained no explosives and Pulver was not injured.