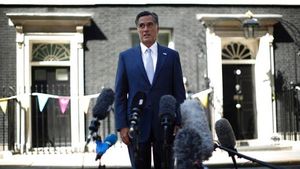 A brief foreign tour is usually supposed to help U.S. presidential candidates bolster their foreign-policy credentials and show off their diplomatic skills.
But then there's Mitt Romney.
The presumed Republican candidate arrived in London Wednesday on the first stop of a three-country tour. His plan was simple: Make a round of high-profile visits, including meeting British Prime Minister David Cameron, raise some money at a fundraising dinner, and attend Friday's opening ceremonies of the 2012 Olympic Games.