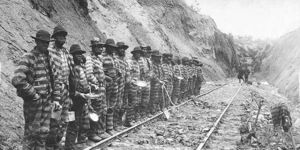 There are several ways to look at prison labor. Generally speaking, we can view it the way many guards and wardens do, as having a salutary effect on those inmates who would otherwise be doing nothing or, worse, getting into mischief; we can view it the way most sociologists do, as providing inmates with marketable skills; we can view it the way some taxpayers do, as a way for these useless reprobates to earn their keep instead of bleeding us dry; or we can view it the way most working people do, as a genuine threat to their jobs.
While there's an argument for each of those perspectives, one thing is certain: Because the U.S. leads the world in the number of people living behind bars, and because businesses already realize that plentiful, dirt-cheap prison labor could be a panacea, prison labor is not only going to continue, but as more inmates are "harvested," as more of them are trained in diverse industries, it's likely to expand exponentially.
The U.S. used to be recognized as the entrepreneurial capital of the world. Today (thanks largely to our unenlightened drug laws), we're recognized as the prison capital of the world. Just as Mr. Chocolate and Mr. Peanut Butter fortuitously met to form Reese's Peanut Butter Cups, the obvious next step was to combine the two. Prisoners, meet your new employers.