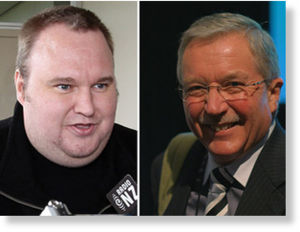 New Zealand Judge David Harvey has stepped down from the Kim Dotcom trial after making remarks that could cast doubt on his impartiality. Harvey was to oversee the extradition case against the internet entrepreneur, who is wanted by the US.
­Last week, Judge Harvey, who is also an internet law expert, was a featured speaker at a conference discussing the TPP treaty - a multilateral treaty between the US and ten other countries, whose copyright provisions have been described as stricter than ACTA, the copyright law recently rejected by Europe.
Harvey noted that under the terms of the treaty, those who change regions on region-restricted DVDs would be classed as criminals.
"We have met the enemy, and he is US," summed up Harvey.
The expression is a pun on the earlier phrase "We have met the enemy, and he is us" adopted by environmentalists from a 1970 cartoon.
But few were in the mood for wordplay.