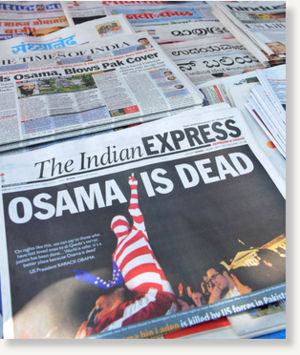 I thought justice was about bringing people to trial for crimes they have committed, not targeted assassinations. It seems I was wrong. I thought disdain for Britain and the US was born from our imperialist foreign policy, not one man recording video messages. It seems I was wrong. First, NATO bomb Libya and kill three of Gaddafi's grandchildren, and people celebrate. What were the crimes of those children? Or is it acceptable to celebrate their deaths because they are 'the devil's spawn'?
Today, we are celebrating the death of former CIA employee Osama Bin Laden. Why are there no photographs of his body? Why was he buried in the sea? Why is he not on trial? Of course, we are not encouraged to question the official line.
Can one man be solely responsible for atrocities that kill thousands of people? As with Saddam Hussein, as with Muammer Gaddafi, the complete dehumanisation of Osama Bin Laden as an individual has served as the pretext for the killing of hundreds of thousands of people. If we were to follow the logic that the killing of one man called Bin Laden comprises 'justice' for the thousands of victims of 9/11, then what would 'justice' for the estimated one million Iraqis dead since the US and British-led invasion of Iraq entail?