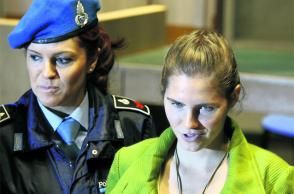 An Italian jury last night convicted Amanda Knox of murder. The 22-year-old American was sentenced to 26 years in prison.
Knox and former lover Raffaele Sollecito were found guilty of the murder of British student Meredith Kercher.
Knox and Italian Sollecito (25) killed the 21-year-old Ms Kercher in what began as an extreme sex game and ended with Sollecito holding her down while Knox cut her throat with a six-inch kitchen knife.
They committed the killing in Perugia, Italy, with small-time drug dealer Rudy Guede, 22, who was jailed for murder and sexual violence last October for 30 years.
Knox bowed her head and burst into tears as the verdict was read out.