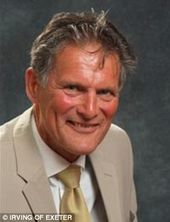 Cllr Collin Brewer refuses to quit and has apologised to Disability Cornwall
Told BBC radio that the timing wasn't good because of upcoming elections
Charity says his apology was an insult and he should quit his post
Defended himself by saying he was 'hot under the collar' after a meeting
Mr Brewer forced to write apology a year and a half after offensive remark
97 per cent of people in local paper poll say Mr Brewer should resign
Katie Price tweeted 'How would you like to dispose of my son Harvey???'
Cornwall Council distanced itself from Mr Brewer's 'ignorant' comment
A councillor told a charity worker who helps youngsters with special needs that 'disabled children cost the council too much money and should be put down'.
Collin Brewer, 68, an independent councillor at Cornwall Council, has refused to stand down after making the 'depraved' remark to the member of a charity during an information event.
What he said has received wide-spread condemnation including that of Katie Price whose son, Harvey, is severely disabled.
Mr Brewer admitted that he made the comment to 'provoke a reaction' and has now been forced to apologise in writing for the offensive remark.