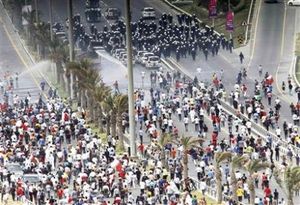 Manama - Forces from neighboring Gulf Arab countries will help maintain order in Bahrain, Arabiya TV reported on Monday, and an adviser to Bahrain's royal court said their forces were already on the strategic island.
"Forces from the Gulf Cooperation Council have arrived in Bahrain to maintain order and security," Nabeel al-Hamer, a former information minister and adviser to the royal court, said on his Twitter feed.
Gulf Daily News
, a newspaper close to Bahrain's powerful prime minister, reported on Monday that forces from the GCC, a six-member regional bloc, would protect strategic facilities.
A Saudi official said Monday that more than 1,000 Saudi troops, part of the Gulf countries' Peninsula Shield Force, have entered Bahrain where anti-regime protests have raged for a month.
The troops entered the strategic Gulf kingdom on Sunday, the official told AFP, requesting anonymity.