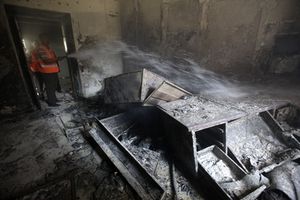 Syrians chanting "No more fear!" held a defiant march Monday after a deadly government crackdown failed to quash three days of mass protests in a southern city - an extraordinary outpouring in a country that is known for brutally suppressing dissent.
Riot police armed with clubs chased the small group away without casualties, but traces of earlier, larger demonstrations were everywhere: burned-out and looted government buildings, a dozen torched vehicles, an office of the ruling Baath party with its windows knocked out. Protesters also burned an office of the telecommunications company Syriatel, which is owned in part by the president's cousin.
The unrest in the city of Daraa started Friday after security troops fired at protesters, killing five people. Over the next two days, two more people died and authorities sealed the city, allowing people out but not in, as thousands of enraged protesters set fire to government buildings and demonstrated around the city.
Among the victims was 11-year-old Mundhir Masalmi, who died Monday after suffering tear gas inhalation a day earlier, an activist told The Associated Press. The activist asked that his name not be used for fear of reprisals.
U.S. National Security Council spokesman Tommy Vietor complained Monday that reports indicate the Syrian government "has used disproportionate force against civilians, and in particular against demonstrators and mourners in Daraa."
Human Rights Watch said in a statement that Syria should "cease use of live fire and other excessive force against protesters." On Monday, an Associated Press team was allowed into Daraa, accompanied by two government minders who kept them away from protesters and would not allow photographs of demonstrations. Army checkpoints circled the city and plainclothes officers were deployed in key areas.