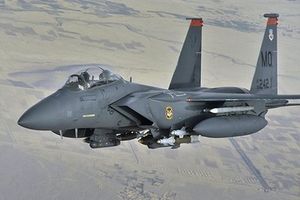 Berlin - A U.S. fighter jet crashed in Libya after an apparent equipment malfunction but both crewmembers were able to eject and were back in American hands with only minor injuries, U.S. officials said Tuesday.
The F-15E Strike Eagle jet was conducting a mission Monday night against Libyan leader Moammar Gadhafi's air defenses when it crashed at 2130 GMT (5:30 p.m. EDT), said Lt. Cmdr. Karin Burzynski, a spokeswoman for the U.S. Africa Command.
A spokesman for the Libyan opposition, Mohammed Ali, said the U.S. plane went down about 25 miles (40 kilometers) outside of the eastern rebel stronghold of Benghazi, Libya's second-largest city.
Britain's
Telegraph
newspaper published a series of photographs it said was the wreckage of the plane, showing people milling around the burned-out aircraft in a Libyan field.
One of the jet's airmen landed in a field of sheep after ejecting from the plane, then raised his hands and called out "OK, OK" to a crowd who had gathered, the Telegraph cited witness Younis Amruni, 27, as saying.