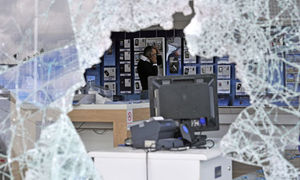 In October 1985, on the Broadwater Farm estate in Tottenham where the death of Cynthia Jarrett sparked riots that culminated in the brutal murder of PC Keith Blakelock, a community leader stood on his chair at a packed open-air meeting.
The man bellowed into a megaphone to the 150 residents in front of him: "You tell them that it's a life for a life from now on. This is war."
Over whoops and cheers from the residents, he turned to a huddle of police officers standing 50 yards away and warned: "I hope you're listening. There is no way I am going to condemn the actions of the youth on Sunday night."
Twenty six years later, police officers are still listening - but the megaphones and open-air meetings have been largely replaced. This weekend's north London riots, the
Daily Mail
announced on Monday, were "fuelled by social media".