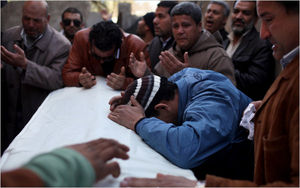 A bold play by Col. Muammar el-Qaddafi to prove that he was firmly in control of Libya appeared to backfire Saturday, as foreign journalists he invited to the capital discovered blocks of the city in open defiance of his authority.
Witnesses described snipers and antiaircraft guns firing at unarmed civilians. Many said security forces had been removing the dead and wounded from streets and hospitals, apparently in an effort to hide the mounting toll.
But when government-picked drivers escorted journalists on tours of the city on Saturday morning, the extent of the unrest was unmistakable. Workers were still hastily painting over graffiti calling Colonel Qaddafi a "bloodsucker" and demanding his ouster.
Just off the tour route were long bread lines where residents said they were afraid to be seen talking to journalists.