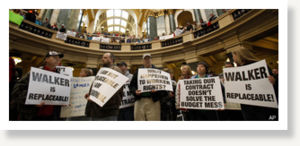 State workers in Wisconsin are protesting a statement by Republican Governor Scott Walker that, union reps say, amounts to a threat to use the National Guard to help break the public union.
Citing a $137 million budget deficit, Walker announced a plan last week which would essentially take away the public union's collective bargaining rights and slash benefits for state employees. Meanwhile, the share of corporate tax revenue funding the state government has fallen by half since 1981 and, according to Wisconsin Department of Revenue, two-thirds of corporations pay no taxes.
In the case of a walkout, Walker has put the National Guard on alert. Last week, he
told
reporters that
the guard is "prepared" for "whatever the governor, their commander-in-chief, might call for," such as staffing prisons if guards go on strike.