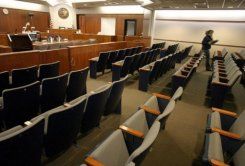 The US Supreme Court ruled that
states did not have an automatic duty to provide counsel in civil courts
in the case of a divorced father who was jailed for failing to pay child support.
By a majority 5-4 vote, the justices found that while the South Carolina father's rights had been violated because he was not given free counsel, US states did not have to provide such advice in all civil contempt cases.
The case was being highly watched and had become emblematic of what civil rights groups have called a trend towards "debtors' prisons" in America.
In the case before the Supreme Court, Michael Turner had been ordered to pay $51.73 a week in child support. But he had regularly fallen behind, and spent short spells in prison.
On his fifth infraction, the South Carolina family court sentenced him to six months in jail. But on his release he was $5,728 in arrears, and was then sentenced to 12 months in jail.
Turner appealed arguing his constitutional rights had been violated as he had not been given access to free counsel -- as is normal in criminal cases -- to argue that he had been unable to pay the funds due during his jail term.
In Monday's majority decision, the court ruled that a constitutional amendment "does not automatically require the State to provide counsel at civil contempt proceedings to an indigent noncustodial parent who is subject to a child support order, even if that individual faces incarceration."