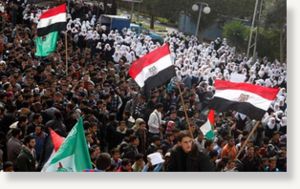 Movement organised on Facebook aims to end the bitter divisions between Hamas and Fatah
Their movement has no name and no leaders. Just a goal, and a tool.
The goal is to force an end to the political divisions among Palestinians by stirring the youth of Gaza and the West Bank to emulate their brothers and sisters in Egypt, Tunisia and Libya.
Their tool - as elsewhere - is the internet, specifically Facebook. "End The Division", a page in both Arabic and English, calls for protests across the Palestinian territories and refugee camps in Jordan and Lebanon on 15 March. It has already got thousands of supporters, and is growing by the day.
The Gaza students behind the Facebook page refuse to give their real names for fear of arrest. They arrange meetings through trusted intermediaries on neutral ground and send emissaries to sound out public figures and politicians.
"This will become a reality," says one of them, who calls himself Abu Yazan. "It's going to happen. We are spreading the word. The first day will be hard, the next day will be better. It will grow."
Another, Abu Ghassan, says: "For the past month, Palestinians have been spectators. We've watched as youth take the initiative and risk their lives. What happened in Egypt needs to happen here."
They are not demanding the overthrow of the Hamas government in Gaza nor the Fatah-dominated Palestinian Authority in the West Bank. What they want is the parties to overcome their bitter rivalries and unite to fight their common enemy: Israel.