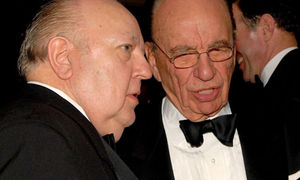 The chairman of the right-wing current affairs channel, Fox News, Roger Ailes, has been named in court documents as the previously anonymous executive who allegedly tried to persuade a fellow boss at News Corporation to lie to federal investigators over a crucial Washington appointment.
The
New York Times
reported
court documents had become available that for the first time name Ailes as the mysterious executive involved in the allegations. The claims were initially made in November 2007 by Judith Regan, one of Rupert Murdoch's rising stars in News Corporation until she was dismissed the previous year in a row over her decision to publish a book with OJ Simpson.
In her unfair dismissal claim against her former employers, Regan claimed that a News Corporation senior executive had tried to secure her silence during the process to vet Bernard Kerik as the US head of homeland security. Regan had been having an affair with Kerik, and she alleged in her lawsuit that the unnamed executive had wanted her to keep quiet about it during the vetting procedure in order to protect Rudy Giuliani, the former New York mayor who had appointed Kerik as New York police commissioner and was Kerik's main supporter. Giuliani was at the time considering a run for the White House in 2008 and the revelations could have rubbed off adversely on him.