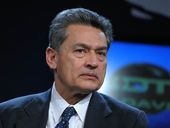 New York - A former Goldman Sachs Group Inc. director was charged by U.S. securities regulators with leaking inside information about the investment bank's results to Galleon Group hedge fund founder Raj Rajaratnam.
The U.S. Securities and Exchange Commission accused Rajat Gupta of illegally disclosing information about quarterly earnings at Goldman and Procter & Gamble Co, where he has also been a director.
It also said Gupta, a longtime executive at the consultant McKinsey & Co, tipped Rajaratnam in September 2008 about a pending $5 billion investment by Warren Buffett's Berkshire Hathaway Inc in Goldman.
That investment was widely seen as helping ensure stability for Goldman at the height of the global financial crisis.
Rajaratnam used the leaked tips from Gupta, a "friend and business associate," to trade for Galleon funds, generating more than $18 million of illegal gains, the SEC said.
"Gupta was honored with the highest trust of leading public companies, and he betrayed that trust by disclosing their most sensitive and valuable secrets," SEC enforcement chief Robert Khuzami said in a statement.
The 62-year-old Gupta is one of the highest-ranking officials implicated in the government's wide-ranging insider trading probe, which has resulted in criminal or civil charges against dozens of individuals.