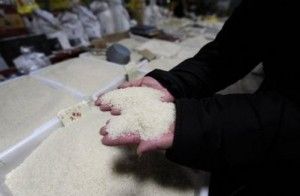 Genetically modified rice has been spreading illegally for years in China, officials have admitted, triggering a debate on a sensitive aspect of the food security plan in the world's most populous nation.
Two strains of GM rice were approved for open-field experiments but not commercial sale in 2009. In January, the agriculture ministry said "no genetically modified cereals are being grown in China" outside the test sites.
But in April, an environment ministry official told the weekly Nanfang Zhoumo that a joint investigation by four government departments had found that "illegal GM seeds are present in several provinces because of weak management".
The agriculture ministry did not respond to an AFP request for clarification.