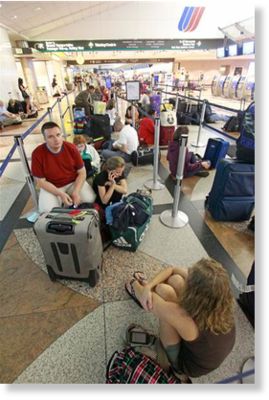 Flights grounded or delayed at many large airports; airline working on problem.
Thousands of travelers were stranded at airports around the United States Friday night after a computer failure of United Airlines' reservation system.
United spokesman Charles Hobart confirmed the outage and said the airline apologized to customers.
"At approximately 7:15 pm CT tonight, United Airlines experienced a computer outage interrupting the airline's flight departures, airport processing and reservations systems," the airline said in statement. "Our technology team is working to resolve the issue as soon as possible."
Long lines of passengers formed at check-in counters at Chicago's O'Hare International and Denver International airports, two of United's largest hubs.
Passengers in Chicago
told NBC station WMAQ
that they were frustrated they were kept in line waiting for about two hours before any announcements came from the airline.
"I was only going home for 38 hours, so it's kind of cutting into that," said Sean Doyle, who was trying to board a 10:15 p.m. flight from Chicago to Denver.
"I'm a little cheesed, and I've been spending the entire time looking up who the new CEO of United Airlines is so I can compose a vitriol-filled note to him," said Kasey Madden, who was trying to fly to Minneapolis.