Iranian president under increasing pressure from MPs after supporting foreign minister's controversial appointment of deputy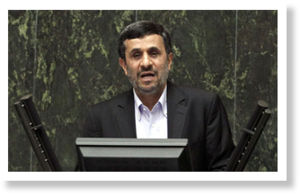 Ministers in Iran moved a step closer towards impeaching the president, Mahmoud Ahmadinejad, after a series of clashes with supporters of the supreme leader, Ayatollah Ali Khamenei.
Impeachment proceedings were launched against foreign minister Ali Akbar Salehi for appointing a man close to Ahmadinejad's chief-of-staff, Esfandiar Rahim Mashaei, as his deputy.
Supporters of Khamenei, including the overwhelming majority of parliament, say Ahmadinejad is under the spell of Mashaei, who is accused of attempting to undermine clerical power and increase his own political influence.
A power struggle between Ahmadinejad and the establishment, especially the clerics, has come to light after the controversies surrounding Mashaei became public. Muhammad Sharif Malekzadeh, the deputy foreign minister in the middle of the row, was appointed last week but has already resigned. Despite that, Iranian MPs went ahead with their motion to impeach Salehi, signed by 33 deputies, which was officially read out in the parliament.