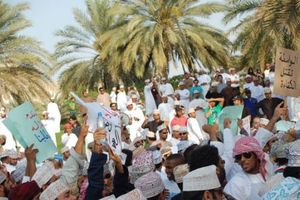 Following clashes between Omani security forces and anti-government protesters, a police station and a government building have been set on fire.
The confrontation erupted on Sunday in the northern industrial city of Sohar, where more than 2,000 demonstrators had taken to the streets, Reuters reported.
Two people have been killed and around five others injured. Omani forces say rubber bullets caused the deaths.
The protest came one day after Omani ruler Sultan Qaboos changed six ministers in his cabinet and raised stipends for university students in an attempt to prevent further protests in the tiny Persian Gulf country.
On Saturday, hundreds of protesters also held a rally in Oman's largest industrial city Sohar, demanding democracy and better living condition.