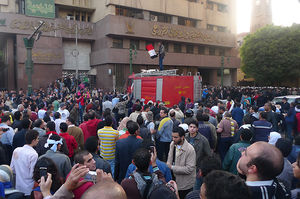 Two protesters and a police officer have been killed in Egypt as anti-government demonstrators have taken to the streets to demand political and economic reforms.
The protesters were killed in clashes with security forces in the city of Suez on Tuesday, and the police officer was killed in a demonstration in Cairo on the same day, AFP reported.
On Tuesday, the opposition called on political activists to hold nationwide demonstrations against the government.
The protesters say it's a day of revolt against torture, poverty, corruption, and unemployment. Some have gathered outside the Supreme Court and the parliament building, calling for the resignation of President Hosni Mubarak.
The police have fired tear gas to disperse the protesters in Cairo, injuring several people.
Over 30,000 police officers have been deployed to the city center to crack down on the demonstrators.
Demonstrations have also been held in Alexandria and other parts of the country.