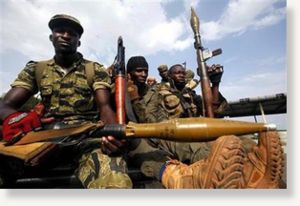 Soldiers of Ivory Coast's rival leaders battled for the presidential palace, military bases and state TV in the main city Abidjan Saturday, in a conflict becoming so brutal that it killed 800 people in one town alone.
Advancing soldiers backing Alassane Ouattara, who U.N.-certified results show won a November 28 presidential election, met stiff resistance from fighters remaining loyal to incumbent Laurent Gbagbo, who has refused to step down.
State television came back on air after fighting took it down for a day, showing Gbagbo drinking tea, saying the pictures were from his city residence Saturday. It was not possible to verify if the images were recent recordings.
A Reuters reporter heard sporadic gunfire and explosions from heavy shelling near the presidential palace throughout the morning, and clashes also raged around the office of state broadcaster RTI, back in Gbagbo's hands after the rebels had initially seized it, and some military bases in the city.
After a brief lull, heavy fighting also resumed outside Gbagbo's residence, though military sources on both sides said his forces remained in control and showed no signs of giving up.
"We are going to fight to the death to defend our territory. We die or we win," Noel Dago, a pro-Gbabgo militia fighter outside his house told Reuters by phone.
"There are a lot of deaths in both camps, but the most determined is the one who will win."