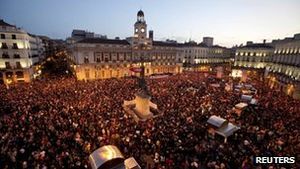 Spanish unemployment has hit a new record high, official figures have shown.
The number of unemployed people reached 5,639,500 at the end of March, with the unemployment rate hitting 24.4%, the national statistics agency said.
The figures came hours after rating agency Standard & Poor's downgraded Spanish sovereign debt.
Official figures due out on Monday are expected to confirm that Spain has fallen back into recession.
Earlier this week, the Bank of Spain said the economy contracted by 0.4% in first three months of this year, after shrinking by 0.3% in the final quarter of last year.
Other figures released on Friday showed that Spanish retail sales were down 3.7% in March from the same point a year ago, the 21st month in row sales have fallen.