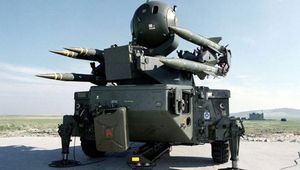 Residents of an East London apartment complex have new, perhaps unwanted neighbors on their roofs: a dozen armed soldiers and surface-to-air missiles.
As part of the largest peacetime mobilization in British history, the military is installing the missile system in order to protect the Olympic stadium, which the apartment complex overlooks.
Residents of the private gated Bow Quarter complex in the London borough of Tower Hamlets took to Twitter this morning to post photos of soldiers arriving with pieces of the missile launchers. The military chose the seven-building residential property, according to a leaflet given to the 700 residents over the weekend, because of a 100-foot-high tower that has unobstructed views of the Olympic complex.
The missiles in this week's test are dummies, and the U.K.'s Ministry of Defense has not yet made a final determination about where missiles will be sited for the 2012 Olympics, which begin on July 27.