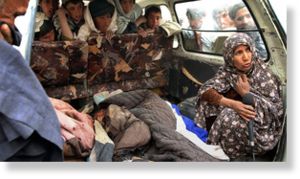 Washington - The American staff sergeant suspected of killing 16 Afghan villagers had been drinking alcohol - a violation of military rules in combat zones - and suffering from the stress related to his fourth combat tour and tensions with his wife about the deployments on the night of the massacre, a senior American official said Thursday.
"When it all comes out, it will be a combination of stress, alcohol and domestic issues - he just snapped," said the official, who has been briefed on the investigation and who spoke on the condition of anonymity because the soldier has not yet been formally charged. His comments drew from accounts of the sergeant's state of mind from two other soldiers with whom he illicitly drank alcohol on the night of the shootings, the official said, and those soldiers face disciplinary action.
As new details emerged about possible reasons behind the shootings, a lawyer who said he had been retained by the sergeant's family
told CNN
on Friday that the suspect was being flown to Fort Leavenworth, Kan., from the detention site in Kuwait he was moved to on Wednesday.