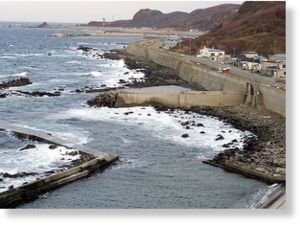 Okushiri, Japan - On the night of July 12, 1993, the remote island of Okushiri was ripped apart by a huge earthquake and tsunami that now seem an eerie harbinger of the much larger disaster that struck north-eastern Japan in March last year.
Islanders still recall with horror how a wall of frothing black water raced out of the darkness to consume entire communities, leaving almost 200 people dead.
In the five years that followed, the Japanese government rebuilt the island, erecting 10.7-metre concrete walls on long stretches of its coast, making it look more like a fortress than a fishing outpost. The $1 billion worth of construction projects included not only the hefty wave defences but entire neighbourhoods built on higher ground, with a few flourishes, like a futuristic $13.8 million tsunami memorial hall featuring a stained glass panel for each victim.
But as Japan begins a decade-long $277 billion reconstruction of the north-east coast, Okushiri has become a cautionary tale. Instead of restoring the island to its vibrant past, many residents say, the $1 billion spending spree may have helped kill its revival.