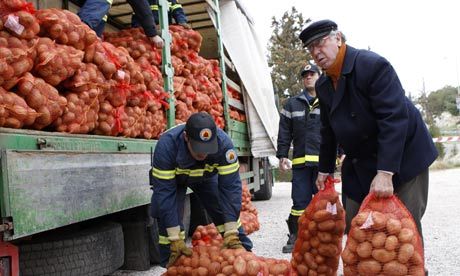 Jon Henley is in Athens finding out how ordinary Greeks are pulling together to cope amid the financial meltdown
Dozens of readers have sent me suggestions about places to go and people to meet in my search for stories behind the headlines in Athens, and I'm following up as many as I can. Others have sent me their own contributions.
Tales of solidarity come from Victoria Prekate, an Athens secondary school teacher and psychologist, who relates how her colleagues in schools in the capital have been responding:
It has been a common secret among PE teachers for some time now that they don't expect pupils to do PE any more, because many of them are underfed and get dizzy.

They need to be discreet, as these underprivileged children don't wish to be exposed to their peers. In my previous school, the teachers arranged among themselves to give the school canteen some money, so that the canteen could give the child a snack, without embarrassing the child.

However, this was not enough. In many schools today, it is the parents' associations who come together, gather food and discreetly arrange to allocate it to those families of the school who are suffering. In co-operation with the teachers, they know which children in the school are hungry and in need of help. Again, they try to do it as discreetly as possible.

"Many families, suddenly left without work, are in shock and there is nowhere to turn. Social services are collapsing. They are not professional beggars. They are ordinary people like you and me, suddenly left with nothing. I know one area, where schools have specialised in what they gather: 1st primary school gather rice and legumes, 2nd vegetables, 3rd meat and chicken etc.