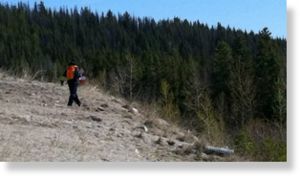 Canada - Three people were killed in a float plane crash about 25 kilometres southwest of Kelowna in the Okanagan region of B.C. on Sunday evening, the Transportation Safety Board has confirmed.
The single-engine de Havilland Beaver float plane went down in a heavily wooded area on an embankment below Highway 97C about seven kilometres west of the intersection with Brenda Mines Road around 6:45 p.m. PT.
Shortly after crash-landing, the plane was consumed by fire and crews from B.C. Ambulance and the West Kelowna Fire Department were unable to save anyone from the flames.
The pilot was Colin Moyes, of West Vancouver, CBC News has learned. Moyes was described by friends as an experienced pilot in his early 50s.
On Sunday night emergency officials confirmed that at least one person died, but were prevented by darkness from conducting a thorough search of the smouldering wreckage.