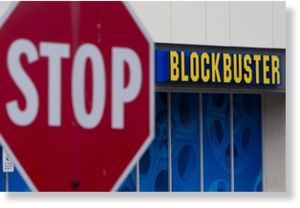 Bargain hunters scoured shelves at many of Canada's Blockbuster Video locations Friday, as nearly 150 stores set for closure began clearing out DVDs and video games at deeply discounted prices.
The movie rental chain, which is in receivership, began liquidation sales at 146 Canadian locations that are scheduled to be shut down in June.
A steady stream of shoppers seeking first pick of stock was greeted with signs saying "Everything Must Go" at one downtown Toronto Blockbuster locations.
Another location was so busy by mid afternoon that a long lineup of customers snaked around the store - some shelves had already been stripped bare.
Deal hunters picked over the merchandise, while yellow signs emblazoned with "30 per cent off," lured them to search through more shelves and bins.
Several customers walked out with stacks of stock they could barely carry.