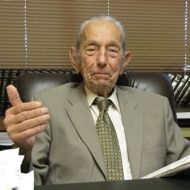 SINCE you're reading this, you'll know a prediction that civilisation was due to end last night failed to come true.
US pastor Harold Camping, 89, spent millions on billboard posters announcing Judgment Day.
He said the end would come as the clock struck 6pm in the world's various time zones.
Camping explained the time was exactly 7,000 years since the flood in the biblical story of Noah's Ark.
He added 200 million would ascend to heaven and the Earth would finally be consumed by a fireball on October 21.