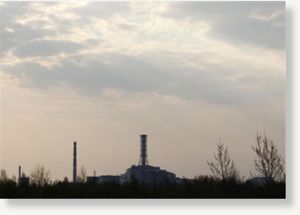 Ukraine marked the 25th anniversary on Tuesday of the world's worst nuclear accident at its Chernobyl power plant as Japan pressed on with efforts to control the crisis at its Fukushima plant.
On April 26 1986, the No. 4 reactor at the Chernobyl plant, then in the Soviet Union, exploded and caught fire after a safety test experiment went badly wrong.
The blast sent radiation billowing across Europe.
A total of 31 people died immediately but many more died of radiation-related sicknesses such as cancer, many of them in what is today Belarus.
Tens of thousands were evacuated, never to return, from Prypyat, the town closest to the site which then had a population of 50,000.
Last week the world community, spurred by the nuclear crisis at Japan's Fukushima plant, pledged 550 million euros ($780 million) to help build a new containment shell over the stricken reactor at the Chernobyl site to replace a makeshift one that has begun to leak radiation.
"Chernobyl was a challenge of planetary dimensions. The answer to this challenge can be provided only by the world community," Ukrainian President Viktor Yanukovich said on Tuesday.
"For a long time, Ukraine was alone with this calamity, but happily we are not alone now," he said in a statement on the presidential website http://www.president.gov.ua
Yanukovich was to visit Chernobyl later on Tuesday with Russian President Dmitry Medvedev and Russian Orthodox Patriarch Kirill.
Chernobyl has remained the benchmark for nuclear accidents.
Though Chernobyl town itself was relatively untouched by the accident, Prypyat is now a ghost town at the center of a largely uninhabited exclusion zone with a radius of 30 km (19 miles).
On April 12 Japan raised the severity rating at its Fukishima plant to seven, the same level as that of Chernobyl.