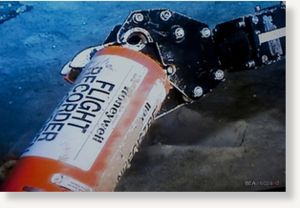 Investigators have located and recovered the missing memory unit of the flight data recorder of a 2009 Air France flight - a remarkable deep-sea discovery they hope will explain why the aircraft went down in a remote area of the mid-Atlantic, killing all 228 people on board.
France's air accident investigation agency BEA said a search by a submarine probing 3,900 meters (12,800 feet) below the ocean's surface located and recovered the unit Sunday morning. The unit is now aboard the
Ile de Sein
, a ship that's helping conduct the probe, the statement said.
The statement also included photos of the recorder - a red cylinder partially buried in sand on the sea floor. Judging from the photos, the unit appeared to be in good condition.
Still, BEA officials have warned that the recordings may yet prove unusable, considering the pressure they were subjected to for nearly two years.
"We can't say in advance that we're going to be able to read it until it's been opened," a BEA spokeswoman told The Associated Press in a telephone interview. She did not give her name in accordance with her agency's policy.
Last month, the agency said the undersea search had identified the "chassis" that had held the recorder, but the memory unit was still missing. Detached from the chassis, the memory unit was found nearby, the spokeswoman said.