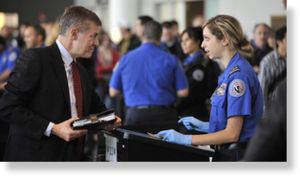 Wear your heart on your sleeve if you want, but just be careful about showing your emotions when you travel - the Transportation Security Administration is watching.
The nation's airport security agency has 3,000 employees at 161 airports nationwide trained to identify terrorists simply by reading faces and body language - a glance in a certain direction, a nervous gesture.
American taxpayers have paid dearly for what the TSA called its Screening Passengers by Observation Techniques, or SPOT program: More than $1 billion at 161 airports.
But the record of these behavior-detection officers is disappointing, to say the least: not a single terrorist nabbed. In fact, 16 passengers allegedly tied to terror plots passed 23 times through airports - and not one was picked out of the crowd.
And a federal watchdog agency, the Government Accountability Office, is warning that SPOT's miserable record probably won't get any better, at least any time soon. At a hearing on Capitol Hill last month, the GAO's Stephen Lord told lawmakers that the TSA has not completely validated the science behind SPOT - or proved that it works in an airport environment - even though the program's budget has grown 15 percent in five years, from $198 million in fiscal 2009 to a requested $227 million in fiscal 2013.