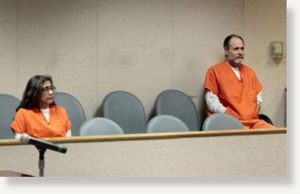 A convicted sex offender and his wife pleaded guilty Thursday to kidnapping and raping a California girl in a surprise plea deal that will keep the now-grown victim and the two daughters she gave birth to during her 18 years of captivity from having to testify at a trial.
Under the hastily negotiated agreement, Phillip and Nancy Garrido are likely to spend the rest of their lives in prison after abducting Jaycee Dugard in 1991 and keeping her in a backyard compound of tents and sheds.
"I'm relieved that Phillip and Nancy Garrido have finally acknowledged their guilt and confessed to their crimes against me and my family," Dugard said in a statement released by her spokeswoman, Nancy Seltzer.
Phillip Garrido, 60, faces a maximum sentence of 431 years to life in prison after entering guilty pleas to 14 kidnapping and sexual assault charges, including six counts of rape and seven counts of committing lewd acts captured on video.
His wife, Nancy Garrido, 55, who originally faced the same charges as her husband and a sentence of 181 years to life, pleaded guilty to one count of kidnapping and one count of rape. She faces a maximum sentence of 36 years to life.