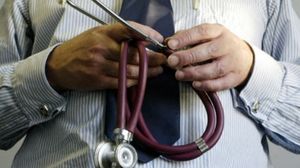 The British Medical Association has decided to delay non-urgent patient care on June 21 after doctors voted with an overwhelming majority for the first industrial action in the profession in 40 years.
The BMA said in an open letter published in UK newspapers that the "reluctant" day of action is not meant to harm anyone and those with the most severe situations will still have access to medical care.
"On that day, doctors will be in their usual workplaces but providing urgent and emergency care only", wrote the BMA.
"We will be postponing non-urgent cases and although this will be disruptive to the NHS, rest assured, doctors will be there when our patients need us most and our action will not impact on your safety," it added.
The letter said the doctors are keen to have their "voice heard by the government."
The action comes after BMA warned ministers against pushing ahead with "totally unjustified" pension contribution rises and a simultaneous increase in doctors' retirement age.