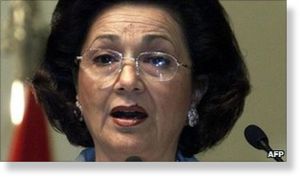 The wife of ousted Egyptian President Hosni Mubarak is recovering in hospital after falling ill when told she was being detained in a corruption probe.
Initial reports said Suzanne Mubarak, 70, suffered a heart attack but some officials say it was a "panic attack".
Mrs Mubarak's condition has improved to stable in Sharm el-Sheikh hospital.
The Mubaraks face allegations of "illegally acquiring wealth". Mr Mubarak had a suspected heart attack when first questioned in April.
The former president, who held power for 30 years but stepped down in February after weeks of protests, is currently receiving treatment in Sharm el-Sheikh hospital while under arrest.
Mr Mubarak has been detained by Egypt's Illicit Gains Authority, on charges he abused his position to illegally acquire wealth.
He is also accused of involvement in the killings of anti-regime protesters.
The 83-year-old has been held under arrest in the hospital in the Red Sea resort since suffering heart problems. His detention was extended by 15 days early on Friday morning.