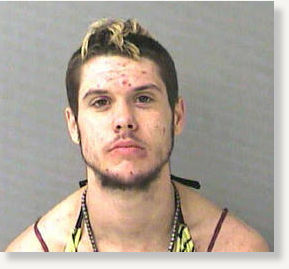 Police say an Alum Creek man high on bath salts killed his neighbor's pygmy goat and that neighbors found him in his bedroom, dressed in a bra and panties, next to the dead animal, said Lt. Bryan Stover of the Kanawha County Sheriff's Department.
Mark Thompson, 19, of Greenview Road, is charged with animal cruelty after police got a call from a woman who said he stole her goat at about 3:15 a.m. Monday, Stover said.
Lisa Powers said she bought the goat on Friday as a gift to her 4-year-old grandson. They named the male goat Bailey after a female character on the Disney Channel television show
The Suite Life on Deck
.
"The baby just loved him," she said.
Powers' nephew, Joshua Pollis, got a call from a neighbor early Monday morning, she said.
"They told him that my goat was wandering around in Mark's house and he'd better come and get it," she said. "They called my nephew because he'd been there before."
Pollis and two women walked into Thompson's house looking for the goat, according to the criminal complaint filed in Kanawha County Magistrate Court.
The three entered the house and made their way to Thompson's bedroom door when Thompson spoke to them, Powers said.