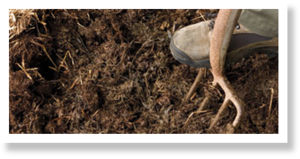 Tracing the spread of agriculture into Europe so many thousands of years after it happened is among the biggest challenges facing archaeologists. But the chemical signature of the manure early farmers spread on their land remains to this day. Amy Bogaard describes how her team found it.
As any gardener knows, animal manure does a brilliant job of keeping soils rich in nutrients and easy to work. Though chemical fertilizers are now widely used, manuring still plays a critical role in food production in many parts of the world today. But was it always so important?
The Crop Isotope Project is the first attempt to systematically assess the importance of manuring in early farming communities, dating back thousands of years - and the results have been, well, ground-breaking.
Archaeologists know where and when the 'ingredients' of European farming emerged - around 10,500 years ago in the Middle East's Fertile Crescent - and we have a good grasp of how agriculture then spread into Europe. But what was early farming like? How were crops grown and animals raised? This kind of understanding is crucial for explaining how farming emerged and became established, as well as its long-term consequences.
In the Middle East, growing crops and herding animals emerged at around the same time. Furthermore, the early suite of crops and livestock (wheat and barley, pulses and flax, together with sheep, goats, pigs and cattle) went on to spread together across Europe. This combined crop-and-livestock 'package' hints at some sort of mixed farming.