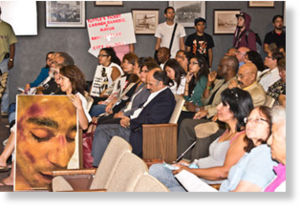 Alleged wrongful death sparks controversy
California - "Killer cops, off our streets."
That was the refrain chanted by a crowd of nearly 150 gatherers as they made their way from Camino del Sol Park to the Sept. 11 Oxnard City Council meeting. Led by a troupe of Aztec dancers and a squad of uniformed National Brown Berets, the procession wound their way through the Colonia neighborhood toward City Hall.
Drawn, perhaps, by the reverberating drumbeat, dozens of residents along the way stepped out to lend their support. Others looked on in bewilderment.
Tuesday's march was organized by Colectivo Todo Poder al Pueblo (All Power to the People Collective). The group led a similar march from Plaza Park to the Community Relations Commission meeting on Aug. 20, in response to accusations of brutality on behalf of the Oxnard Police Department following the death of Robert Ramirez, a 26-year-old Oxnard resident, on June 24.
Several of Ramirez's relatives and Colectivo supporters spoke out during the public comments segment of the Aug. 20 meeting.
"We want the community to have the power to fine anybody who touches unjustly or harasses our youth in our community," said Francisco Romero, a Colectivo organizer and 2006 candidate for City Council. "The time has come."