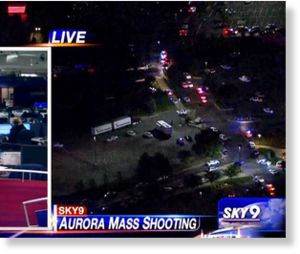 A gunman opened fire early Friday at a movie theater in a Denver suburb, killing 14 people and leaving at least 50 other injured, Aurora Police Chief Dan Oates said.
The shooting occurred during a showing of the latest Batman movie
The Dark Knight Rises
, police said.
The violence erupted about 12:30 a.m. MDT as the gunman stood at the front of one of the Century 16 theaters at the Aurora Mall.
"Witnesses tell us he released some sort of canister. They heard a hissing sound and some gas emerged and the gunman opened fire," Oates said at a news conference.
One suspect is in custody and there's no evidence of any additional shooters, Oates said.