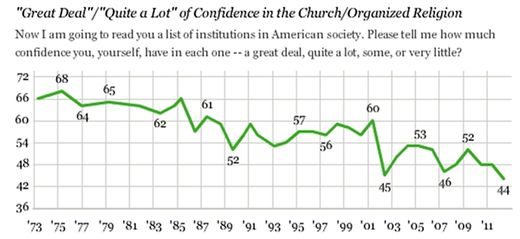 Americans' confidence in religious institutions has hit an all-time low, with only 44 percent expressing a "great deal" of confidence in organized religion, according to a new Gallup survey.
This follows a downward trend since the 1970s, when 68 percent of Americans had a high degree of confidence.
Gallup cites two big blows to confidence in organized religion: 1980s scandals involving televangelists like Jim Bakker and the Catholic sex abuse scandal in the 2000s.
Perhaps as an outgrowth of the abuse scandal, Catholics lag far behind Protestants in their confidence in the church, by a margin of 10 percentage points.