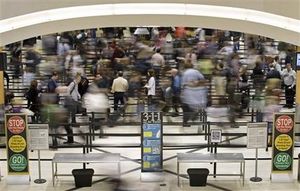 How did an agency created to protect the public become the target of so much public scorn?
After nine years of funneling travelers into ever longer lines with orders to have shoes off, sippy cups empty and laptops out for inspection, the most surprising thing about increasingly heated frustration with the federal Transportation Security Administration may be that it took so long to boil over.
Even Secretary of State Hillary Rodham Clinton, who is not subjected to security pat-downs when she travels, understands the public's irritation. She, for one, wouldn't want to go through such scrutiny.
"Not if I could avoid it. No. I mean, who would?" Clinton told CBS'
Face the Nation
in an interview broadcast Sunday.
The agency, a marvel of nearly instant government when it was launched in the fearful months following the 9/11 terror attacks, started out with a strong measure of public goodwill. Americans wanted the assurance of safety when they boarded planes and entrusted the government with the responsibility.