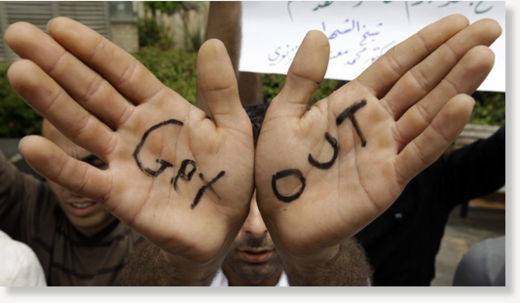 Syrian authorities have arrested more than 1,000 people and many more have been reported missing in the latest sweep aimed at crushing the uprising against President Bashar Assad, a human rights group said Tuesday.
Ammar Qurabi, who heads the National Organization for Human Rights in Syria, said the 1,000 detentions were made since Saturday in house-to-house raids across the country.
"They are picking up people in an arbitrary manner," Qurabi told The Associated Press. In the southern city of Daraa, the epicenter of the protest movement, agents have been arresting men under 40, he said.
Assad is determined to crush the six-week-old revolt, which is the gravest challenge to his family's 40-year-old ruling dynasty.
Assad inherited power from his father in 2000, and has maintained close ties with Iran and Islamic militant groups such as Hezbollah in Lebanon and Hamas in Gaza.