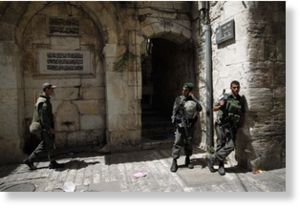 Israeli policemen entered a sensitive Jerusalem holy site Friday and used stun grenades to disperse dozens of Palestinian protesters who were hurling stones at security personnel, police said.
The scene of the clash was the Old City compound known to Jews as the Temple Mount and to Muslims as the Noble Sanctuary.
Israeli spokesman Micky Rosenfeld said police entered the compound after Palestinians began lobbing stones at security forces stationed outside one of the gates. The clash began immediately after Friday prayers at the Al-Aqsa mosque.
Police used stun grenades to disperse the crowd, he said.
Officers made three arrests, no one was injured and order was quickly restored, Rosenfeld said.
The compound, holy to Jews and Muslims and captured by Israel in 1967, is one of the most combustible sites on earth. Clashes there in the past have ignited broader violence.