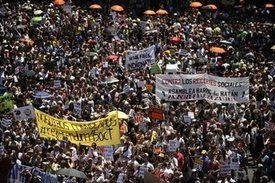 Madrid - Tens of thousands of Spaniards abandoned their customary quiet day with families and friends on Sunday to march against the so-called "Euro Pact" and the handling of the economic crisis.
In Madrid, marches began at six locations around the city, one at 6 a.m. from Leganes, 13 kilometres from the centre, before convening at the Neptune plaza in front of the Prado art museum, a stone's throw from parliament.
At 1200 GMT, police put estimates in Madrid at between 35,000 and 45,000 protestors, with no reports of violence, according to national radio.
"I'm here because this is a con," said Juanjo Montiel, 26, one of four blind protestors in Madrid, who works in Information Technology for around 1,000 euros a month.
"I'm lucky enough to have a job, but many don't and have no chance. And on top of that, the politicians want to make more cuts. This is not our fault, it's the system."