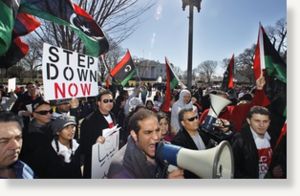 Tripoli - The son of Libya's strongman Moamer Kadhafi warned Monday the country would be destroyed by civil war if protests end his father's rule, in a speech broadcast as bursts of gunfire broke out in Tripoli.
Saif al-Islam Kadhafi offered reforms to end the violent uprising gripping the country, but he warned the protests were a foreign plot and would be crushed in a "bloodbath" if the government's offer was rejected.
The turbulence gripping the Arab world following the revolutions in Egypt and Tunisia also spread to Morocco, where thousands rallied for change across the country.