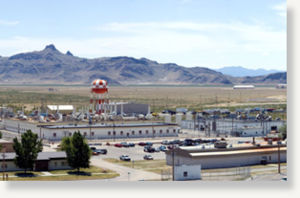 An overnight lockdown, triggered when vial of the deadly VX nerve agent went temporarily missing, was lifted early Thursday morning at Utah's sprawling, 801,000-acre Dugway Proving Ground.
Officials at the remote Army installation, 90 miles southwest of Salt Lake City in Utah's western desert, abruptly ordered gates closed at 5:24 p.m. Wednesday. Up to 1,500 employees of Dugway - military personnel, contractors and civilian workers - were forced to stay the night.
Dugway spokeswoman Paula Nicholson said Thursday that the lockdown was ordered after a "
routine inventory of sensitive material in the chemical laboratory. . . discovered a discrepancy between the records and the agent on-hand
. As a precaution, the commander immediately locked down the installation and began efforts to identify the cause of the discrepancy. "